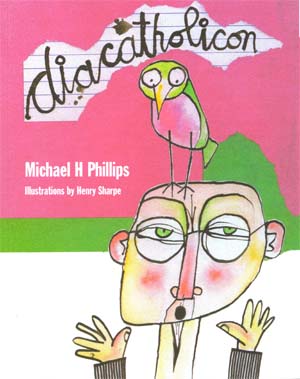 Diacatholicon by Michael Phillips with graphics by Henry Sharpe

A collection of stories by a writer with a unique vision - illustrated by an artist similarly unique in vision and execution.

A few stories by Michael Phillips appeared in literary magazines back in the 1970's and made such an impression on readers that they are still talked about in the pubs of Dublin, thirty years later. This volume resurrects those stories as well as previously unpublished pieces which have been tracked down and rescued from musty bedsits in London and boudoirs of former girlfriends in Paris. His years of wandering around Europe, busking and surviving on odd-jobs, added nothing to his store of writing, and merely resulted in the loss of many of the stories he had tucked into the sidecar of his motorbike when he left Dublin all those years ago. However, this volume contains enough to delight the reader with an insight into a writer of rare vision and sensibility.

Henry Sharpe was born in Dublin and has lived in Wicklow since 1989. He studied at the National College of Art and Design, Dublin, where he has been a lecturer in drawing since 1980. He has worked as a freelance illustrator and book designer and is the author of a number of books on art, including monographs on the painters Jonathan Wade and Michael Kane. He has participated in a number of open submission exhibitions over the past 30 years, including Living Art, Oireachtas, Independent Artists and National Portrait Exhibition (Commendation).

To read more about Michael Phillips, click here.
Diacatholicon

ISBN 0-9547194-7-6, price €9.95