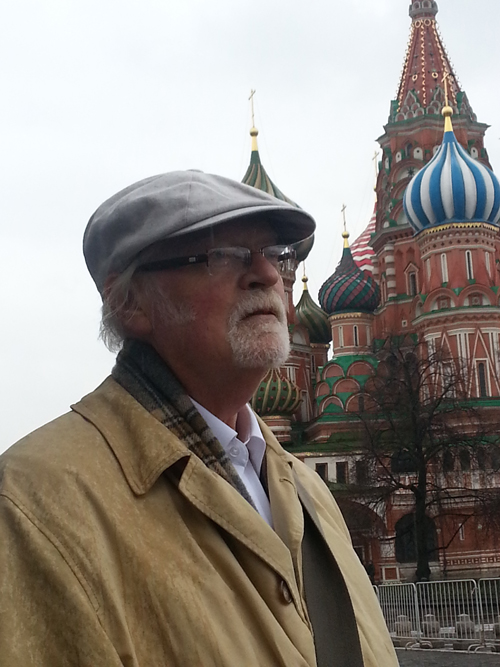 Ah Moscow, Moscow - Jack Harte
Born in Killeenduff, Co Sligo, Jack Harte has lived and worked in Dublin. He has many books to his name, translated into many languages, including two novels and three collections of short stories, as well as poetry, text books, and an art book. His novel, In the wake of the Bagger, was described as 'one of the great books about Ireland' (Irish Independent) and was selected as one of the 101 Irish Books you Must Read' (Des Kenny) in the handbook of that title. He has recently turned his hand to drama. Harte founded the Irish Writers' Union and the Irish Writers' Centre. Further info on

With typical irony, Harte has written this story for the Internet. With the ongoing angst about the effect of the ebook on the printed book, Harte reminds us that the print medium supplanted the oral tradition for the vast majority of us only in the Nineteenth Century - as a result of universal literacy and the industrial revolution. The progression to the electronic medium is minor by comparison.




Ah Moscow, Moscow
SENT ITEMS
Dear Nadezda

I read with enjoyment and interest your article in the International Literary Review, and I now take the liberty of writing to you since your email address was provided at the end of your article. The work you are doing at your university in Moscow looks exciting and certainly seems important for international cultural understanding.

I am an Irish writer, with some publications to my name, but of moderate acclaim. I have been a devotee of Russian literature from my youth, and have always entertained the hope of visiting Moscow, seeing the city that gave birth to so many great writers, walking the very streets that Dostoyevsky walked as a young man. With Lermontov, I have often felt like exclaiming:

Ah, Moscow! Moscow! I love you like a son
As only a Russian can love - powerfully, passionately, and tenderly.

Does your university invite foreign writers to give talks or readings? If so I would be interested in applying, and would be glad of any advice you might give me in terms of the procedures and protocol for so doing.

I look forward to hearing from you.

Yours sincerely

Jude Scott





Dear Nadezda

Many thanks for your response. It is very gracious. I am delighted that I have succeeded in making contact with you. It is gratifying too that you yourself are interested in Ireland. No doubt you have heard much of Dublin, which is a great literary city as well as Moscow, but unfortunately I live in a very remote quarter of the country, on the north-west coast, on a narrow plain that is screened from the rest of Ireland by a range of mountains. When we face north we are penned in by the sea, when we face south we are corralled by the mountains. You can picture that, and imagine our isolation.

Thank you for explaining the specialisation of your university. A pity it does not have a faculty of contemporary literature, but I appreciate all the more your undertaking to explore ways of gaining me an invitation. It would be the fulfilment of a lifetime's dream to get to Moscow, especially to be invited there as a writer, and to see with my own eyes what Marina Tsvetaeva saw with hers, and to hear what she heard:

In my Moscow cupolas are blazing
In my Moscow bells are pealing

I look forward to hearing from you.

Sincerely

Jude





Dear Nadezda

You are very kind to take this trouble. A talk! In Ireland I am usually invited just to read from my own work - stories, poems – but I am sure I could come up with some topic 'of an anthropological nature'. You know what we Irish are like: give us a topic and we will talk about it.

If they are interested in an anthropological topic, I could deliver a talk on the pastoral poetry of the Ox Mountain Shepherd Community. Their traditions go back to the First Millennium BC when they arrived in Ireland from the Mediterranean. So their sagas, epics, and folk songs – often accompanied by the music of the pipes – bear strong suggestions of their Mediterranean origins. I am the leading expert on their language, as I have been associating with this community since childhood. I am probably the only one from outside their community who understands it - that probably makes me a world expert on the topic! What do you think?

Your observations on my description of our plain by the sea – Tireragh we call it – were sharply to the point. I managed to track on the Internet that painting by Isaac Levitan that you mentioned – Above the Eternal Tranquillity:

above-the-eternal-tranquillity

Yes, I can see how this picture was brought to mind by my description of Tireragh. The brooding isolation, with the suggestion of cosmic events taking place among the clouds, is certainly redolent of life on our remote promontory on the edge of Europe. The painting captures it exactly. I look forward to standing before it one day in your Tretyakov Gallery.

Sincerely

Jude





Dear Nadezda

I am amazed that anyone should be interested in the Pastoral Poetry of the Ox Mountain Shepherd Community. And to think that I might be invited to Moscow to give a talk on it, now that presents an enormous opportunity and an enormous challenge. I quite understand and appreciate that your Faculty must deliberate long and hard before making any decision to invite me. Assure them that the culture of Tireragh springs from the landscape and the folk tradition, natural and fresh, as it does in Russia. We have our own 'Dead Souls' our own 'King Lear of the Steppes'.

I am not surprised that you found no reference on the Internet to the Shepherds, or to their culture. They still live in a pre-computer zone, so Google has not discovered them yet, and their villages are so remote and isolated that Google Maps have not located them either. And, as I have mentioned, I am probably the only one who can interpret their language – if a text suddenly emerged there would be no Bing translation available. That's what makes it a unique opportunity for your university.

Yes, of course I can send a sample of their poetry, and I am attaching now a series of stanzas. It appears to be the opening of a long poem or song, maybe even an epic. I am not sure yet, as I have just started working on the translation of an old vellum manuscript. But I will be interested in hearing whether these few stanzas attract the interest of your Faculty.

Sincerely

Jude








Dear Nadezda

I am glad that you found the initial stanzas of interest. Yes, I agree that they are quite conventional, when read in translation, but there are many fascinating aspects to this poem in the original. Yes, indeed the motif of the raven, with his black wing and red blood (usually spilt on snow, allowing for an additional reference to the lady's skin), is a conventional motif, and is found in many of our old Irish epics as well. Snow is rare enough in Irish weather and therefore a rare enough phenomenon in Irish literature. How different from Russia. We could never have a scene in Irish literature to match the one where Eugene Onegin careers down Tverskaya ulitsa in a sleigh, the street life of Moscow fleeting past him. Moscow must be magical in winter, but I think I would prefer to visit in summer, or perhaps the early autumn as it is now – I presume there is a limit to the sight-seeing one can do in a sleigh!

Regarding the language of the original, it is what we call Classical Irish. By the Middle Ages in Ireland a highly cultivated caste of scholars/poets composed a vast quantity of literary material in verse. Their impact on the language of their time was similar to the impact of Shakespeare on English: they standardised, they froze it. Their compositions, which recorded the history, the laws, the genealogy of the dominant families, the poetry, the folktales, were recited and memorised and recited again for generations, indeed for centuries. The chieftains who were dependent on this learned caste supported them, down to the 17th Century, when the native Irish social, political and cultural structures were finally demolished by the aggressive conquest of the English. Then the problems for the scholarly caste were many. Their patrons were gone. Also, over centuries the language of the people had moved on, had evolved into local dialects that had little relationship to their frozen learned Classical Irish. So, as well as being without patrons, they were also without an audience. Were it not that some of their compositions had been recorded in manuscripts, such as the one I am translating, the great heritage would all have disappeared absolutely. You will find much detail of this on the Internet if you Google Classical Irish.

I am amused when people lament the advent of the ebook, seeing in it the demise of the printed book. The Irish compositions, books if you like to call them that, existed in their own cyberspace for centuries, never having had a physical manifestation, but could be recalled by individuals when required. Isn't that so like our contemporary ebooks similarly floating around in cyberspace until summoned by these little mediums called computers?

I look forward to hearing what your Faculty has to say about the sample stanzas.

Sincerely

Jude





Dear Nadezda

I have been looking at that painting, Girl with Peaches, that you said was your favourite in the Tretyakov Museum.

http://www.tretyakovgallery.ru/en/collection/_show/image/_id/316

Yes, it really does have a powerful persona, and an atmosphere too. I read that Valentin Serov painted it in Abramtsevo. Now that is a place I would like to visit to see what was achieved in the revival of traditional Russian arts and crafts. Is it far outside Moscow?

No need to apologise for the delay in getting your Faculty to consider my application. We have our bureaucracy here too you know, as no doubt does every country.

Your interest in the poem I am translating, shall we call it The Shepherd and the Rose, inspires me as I continue with the work. My fascination with the Shepherd community goes back to my days in primary school. The children who came down from the mountain were somewhat unruly, or perhaps untamed is a better word. They were a challenge for the teachers, and the teachers in turn treated them with disdain. Among themselves they spoke a strange language, which sounded like Irish, but which we could not identify as either Irish or English. I began to fraternise with them, and to acquire their strange language. Later I was to discover that their community in its isolation had kept alive the version of Irish that was at least five hundred years old. Later, when I realised that this patois of the shepherds was very close to Classical Irish, I had an immediate advantage in reading the manuscripts that preserved the ancient stories and poems. And, by good fortune, it qualified me for this assignment.

Sincerely

Jude





Dear Nadezda

After so long, the committee simply asks for a list of my academic qualifications and my transcripts! Yes, I know that there is time and that they will be meeting again. But I have no academic qualifications. I have never been inside a university, not to mention studying in one. In my time the rich went to university and the poor went to England or America. I went nowhere. I stayed and read. I hope Russia has not turned its back totally on its egalitarian past. I spent the first money I earned – as a petrol pump attendant – on a collection of the Russian classics. It was a monthly subscription arrangement, and each month a shiny red leather-bound volume would arrive in the post and I would spend the month reading and re-reading it until the next volume arrived. That is how I encountered Tolstoy, and Chekov, and Goncharov - not by pursuing some course in a university.

I apologise if my tone is strident. And I know you have no control over bureaucratic requirements. Please explain to the committee that I am self-educated, and we will look forward to a sympathetic response.

In the mean time I have completed the translation of some more stanzas, and have attached them. I hope they retain your interest in the project. I should explain that the name of our mountain range, the Ox Mountains, is a crude and inaccurate Anglicisation of their Irish name, Sliabh Gamh. Damh is an ox in Irish and in the Genitive Case aspirated, dhaimh, sounds somewhat like gamh which is an adjective for bleak and shares the same root as geimhreadh, winter. So Sliabh Gamh translates more accurately as the Bleak or the Wintery Mountains. And with the figure of Gamh as deification of winter, that name seems more appropriate for the mountains in this poem.

Sincerely

Jude



Dear Nadezda

I am glad you like the stanzas and are intrigued by the development of the narrative. I am too. Don't forget that I have no prior knowledge of the outcome – the story unfolds for me as it does for you.

You really are delving into Irish mythology. No, you will not find a personage called Gamh anywhere in recorded mythology. He is a deity peculiar to the Shepherd community of Tireragh, and this may be the very first time he emerges in a manuscript record. Therefore we are witnessing a very significant discovery in folk scholarship here. For a parallel figure, look up Balor of the Evil Eye, who is no doubt the exemplar of Gamh – unless of course it is vice versa! Balor had an eye in his forehead which destroyed everything that came within his beam. His abode was in the north, and so he too appears a deification of winter. He is slain at the battle of Moytura, on the other side of the Ox Mountains, by Lugh, who then proceeds to become sun-god. The epic struggle between them represents the struggle between summer and winter, heat and cold, growth and destruction. It is my belief that culture began when storytellers cast an interpretation on natural phenomena, invented characters and narratives to explain what was otherwise inexplicable.

But enough of our culture, tell me more of yours, Nadezda, tell me how Moscow reacts to the first chill of the autumn. Tell me if many of the scenes in The Master and Margarita can still be seen as they were in Bulgakov's time. I believe the house where Satan's ball took place, the then residence of the American Ambassador, is still there – and unchanged, I hope. Yes, you must tell me more of Moscow. Please.

Sincerely

Jude


Dear Nadezda

What a list of queries the Chairman of your Faculty Committee has given you!

I mentioned at the start that I was a writer of modest acclaim. What that means in Ireland is that I do not have major publications to my name, do not have major studies by scholars on my work. In Ireland we have many writers but few critics, the inverse ratio of every other country. It is different here. He must be made to understand that.

His other questions regarding the manuscript, where it came from, what institution is involved in the research, how I came to be engaged in the translation – these are all valid and reasonable. I did not mention such matters before because, as we say in Ireland, it is a long story. But now seems a good time to tell it.

A few years ago, during the building boom in Ireland, a developer was demolishing an old house in my local village, Easkey – in order to build a big new house, maybe even a block of apartments. It was that time when building houses was seen as the path to riches. The driver of the bulldozer noticed in the rubble a strange object, which looked like an old book, with fragments of what looked like scraps of old paper scattered around it. He knocked off for his lunch break, and sent a boy to find me, figuring that I might be able to throw some light on his find. Of course I knew immediately the importance of the find, and I had a good idea why it was there. All such finds have to be reported to the National Museum by law, and I made the phone call. Before the driver could resume his demolition after his lunch break, the police had arrived and cordoned off the whole building. The following week the archaeologists arrived with their trowels and their sieves and their sifting boxes. But nothing else was found.

Initial examination by the Museum confirmed that this manuscript dated from the Fifteenth Century or thereabouts. How it ended up secreted in the wall of a house in Easkey was obvious to all. It was a relic of the great MacFirbis family of hereditary scholars who ended their days in Easkey.

I mentioned to you already the scholarly caste who were the custodians of Irish history, laws, storytelling, poetry, and every other branch of learning. One of the most important dynasties of hereditary scholars in Ireland was the MacFirbis's, who operated a centre of learning at Lacken, a few miles from Easkey for five hundred years that are recorded, from the 12th to the 17th Century. Some of their manuscript compilations survived the turbulence of our history and preserved much of our oral culture. They are quite famous and you will be able to read about them if you look up: The Yellow Book of Lacken, The Great Book of Lacken, The Book of Genealogies. For example we can thank them for the earliest and most complete version of our great national epic, Táin Bó Cuailgne, as well as our trio of cherished romantic stories, collectively called the Three Sorrows of Storytelling - that includes the celebrated Children of Lir.

The MacFirbis family lost their holding at Lacken as a result of the Cromwellian War of the 1640's and the subsequent Plantation. The last and one of their greatest figures was Dubhaltach who was murdered in 1671. It would appear that after the confiscation of their castle and lands at Lacken the few remnants of the MacFirbis dynasty moved to Easkey. In 1663, when the English Government imposed a 'Hearth Tax', three of them are registered as having houses in Easkey, then called Imleach Iseal – Dubhaltach, his brother Patrick, and cousin Fearfeasa. This is the link to the register:

http://www.failteromhat.com/sligohearth/easky.php

Note the crude attempts at Anglicising of their names.

It is not surprising that our manuscript was secreted in one of the houses for safety. Perhaps it was still in the possession of Dubhaltach when he was murdered. Maybe his brother or his cousin was minding it. It was valuable, and they knew it, because Dubhaltach took care to place some of his most valued manuscripts in the care of reputable scholars and antiquarians. So, in which of the houses was our manuscript secreted? Was one of them hiding it from the others? At this stage no one can tell.

After the collapse of our economy, the Museum did not have the resources to research and restore the manuscript, so they engaged an expert, a German Professor, to undertake the work – the Germans had plenty of money after we spent all ours bailing out their bankers! The professor established a research project attached to his German university and engaged two expert restorers, with relays of post-graduate students, to work on the restoration. He rented a newly-built but unoccupied office suite in Easkey – so that the work could be done in situ, as it were – although the local cynics claimed it had more to do with the Professor's having bought a holiday home at a knock-down price in nearby Enniscrone.

Of course they needed someone with a knowledge of the language to decipher the text, and I was more than happy to offer my services.

That is the story of the manuscript, Nadezda. I hope it satisfies your Chairman, because I am beginning to feel like Chekov's Three Sisters, forever dreaming of going to Moscow, without any hope of ever getting there.

I am attaching the latest batch of stanzas I have translated.

Sincerely

Jude


Dear Nadezda

No, I don't have the name of the German university. My relationship with the Germans is fraught, to put it very meekly. For one thing, they resent having to pay me for my work. Max and Adolph, the two restorers, who are here on-going, question the value of my contribution, yes, question it to the point of contempt. They resent my assembling the fragments into a format that allows the reading of a continuous narrative. They claim that the reconstruction of the narrative gives an undesirable focus to the project. They argue that the fragments should be left and presented as individual objects, so that the public can see them as such and marvel at the information gathered from their scientific examination. And to be fair, they have amassed an enormous amount of scientific information while stabilising and restoring the fragments of vellum. They are able to say in what parts of the country the manuscript has been, and at what time of the year, by analysing minute specs of pollen on the vellum. And they can affirm that the book was handled by many people from their study of the grime on the cover. Such information, they claim, is more interesting and more important than my trite translation of a romantic love poem.

Underneath all that, I think they are afraid that my translation will deflect attention from their serious work – they make their pronouncements with bass-baritone voices as if to emphasise their seriousness. Or do all German males have bass-baritone voices? Sometimes though, over a few pints in the village pub, we have more pleasant exchanges - about the formative influence of storytelling on history, on the perception of nature, such topics.

Besides, if your Chairman had the name of my Professor, it is him he would invite to Moscow to talk about this project, not me. I have heard how these academics operate: you invite me to your university, and I will invite you to mine. What a pity I do not have a university in Easkey - I could engage in such reciprocation. Alas! But I could set up a hedge-school. I do have the resources for that: all I would need is a hut 'of clay and wattles made', as Yeats put it, a handful of books, some writing materials. I wonder would academics visit such an institution? Would they like to exchange? And yet such institutions kept learning alive among the poor of Ireland when university doors were firmly shut against them.

Ah, Moscow, Moscow. I presume it is very cold there now. Have the streets filled up with snow yet? Does the sad statue of Gogol look even more downcast in the winter?

Attached is my latest addition to the opus.

Sincerely

Jude


Dear Nadezda

You appear as interested in our remote corner of Europe as I am in Moscow. That is surprising, but reassuring. I feel I am not boring you with my meandering accounts of our culture. I enjoy answering your questions, and answering them is helping me to clarify some of the issues in my own head.

How wonderful the computer is that I do not have to clarify who the Goban Saor was. If I had to add in as footnotes all that you can research on Google, my emails would be long-winded indeed.

I am glad you enjoyed the turn in the narrative. But beware, we do not know yet whether there will be a tragic or a comic outcome. Your question as to the current state of the Shepherd community does not have a reassuring answer unfortunately. Like all rural communities they have suffered decline, and as with all poor communities the decline has been extreme. The boys and young men who tended their sheep on the mountains during my childhood all ended up in Manchester or Birmingham, and maybe some of them went as far as the US or Australia. Very few remained. The shepherds were replaced by barbed-wire fences, and the flocks that one time could almost find their own way to their traditional grazing ground were mixed indiscriminately, with ugly marks on their backs to indicate their owners. When the market price of mutton and wool fell, and the barrage of propaganda from Dublin and Brussels advised that smallholders were no longer wanted, the communities abandoned the struggle and sold their grazing rights to a tycoon – coincidently just before a generous grant was introduced by Brussels for every sheep on the mountains of Ireland. So the tycoon became a millionaire overnight and now visits occasionally, in his four-wheel drive, and gets a helicopter to check the number of his sheep on the mountain – occasionally. The rumour is that he is negotiating with the Americans to buy drones so that he can check the sheep from their chip implants without employing even a helicopter pilot.

Do you think I might give a talk about the Shepherds instead of the poem? The title might be: 'The impact of the barbed-wire fence on the traditional culture of the Ox Mountain Shepherd Community'!

It is all so far removed from the passionate poetry of Mayakovsky, don't you think!

Sincerely

Jude





Dear Nadezda

Sorry for the delay in sending more translations to you. I am having problems with my German colleagues. The restoration is almost complete, but they are withholding the last of the restored fragments from me. What they are muttering about is something to the effect that if I finish my translation and release it to the media, all the attention will be on what they call 'the silly poem', and not on the outcome of their scientific research. I have protested, but they are adamant. Now it appears that the matter will have to await the arbitration of the Professor – who is not expected until the Easter break from his university. Without doubt he will be over then, all expenses paid, to enjoy his three weeks in his holiday home. So I will have to wait.

And waiting is what I have to do too in my long yearning to see Moscow. Yes indeed, there were times when I thought of signing up for one of those guided tours. But I did not find one that matched my needs. When I enquired, I was told that a participant could not depart from the group schedule to visit sites that were not specified. Even the momentous collapse of the Soviet Union did not alter the schedule of these tour operators. I wanted to connect with the spirit of Platonov not with the mummified body of Comrade Lenin. You understand that. Of course I could have attempted a private visit, but when I pictured myself on the streets of Moscow, unable to speak the language, unable to decipher the street signs, I thought better of it.

Maybe eventually your university will issue the desired invitation, and I will be able to go there - as a writer. We live and hope.

Sincerely

Jude





Dear Nadezda

Yes, it would appear that both of us are in Limbo, you waiting for a decision from your Faculty committee, I waiting for my German friends to release the last fragments of the manuscript. Maybe Limbo does not describe our state, though. Do you have that concept in your Orthodox culture? It loomed as a great cloud over Irish Catholicism. The innocent children who died without baptism were assigned to this in-between place, but from it there was no hope of escape. So I think our condition is more akin to Purgatory, a place of on-going torture, but with the prospect of release into Paradise if we can endure.

Perhaps now is the time - now that we have time - to address the questions you have raised several times about versification. I have been avoiding the subject for fear of boring you with too much technical detail.

As you have rightly gleaned from your browsing, the poets of the Classical age employed syllabic verse: they adhered rigidly to the number of syllables in each line. Their unit of composition, though, was not the line but the four-line stanza – the term quatrain in English denotes four lines, but for these Irish poets the stanza was called a rann and a line was called a ceathrún which means a quarter of a stanza – an interesting inversion, don't you think! But the emphasis was not semantic: their compositions were generally very long, so using the stanza as the unit was appropriate, totally practical. And they had to be practical. When we talk of poetry or verse today, the concept of lyric poetry springs to mind, perhaps some narrative thrown in, but always in small doses. However that was not what poetry involved for these people. Only in a small portion of their verse did they indulge in expressing personal emotion or sentiment. For them, poetry was a public art form, a public service.

We have to cast our minds back in an imaginative way to appreciate why poetry was so important in primitive societies. And the reason is more mundane than our contemporary poets would care to admit. The invention of poetry, if we can conceptualise it for argument's sake as a single invention, was a practical response to the problem of preserving the vast quantity of knowledge that the society had accumulated over generations. It is a very close parallel to the invention of the computer in our own time and for a similar purpose.

It was not noble feelings and exalted thoughts that the society was anxious to preserve, but the history, the laws, the genealogy of the leading families, the very bedrock on which their society was constructed. All of this might be passed on by way of discourse, of course, but oral transmission was extremely unreliable. Such unreliability might be tolerable in storytelling, indeed might be desirable, as a good storyteller could embellish in the telling what he had received. However, accuracy was required in preserving and recounting the laws of the society, also genealogy which was significant in determining who might be eligible to be the next chieftain, history which gave the society its sense of identity. And, as we all know from childhood, the best aid to memory is a rhyme.

Poetry makes language memorable, in the literal sense of that statement. Structuring information into verse made it easier to recall, and to recall accurately. So poets were employed because they could provide this service. They could shape verbal material, exalted or mundane, into verses that would lodge in the memory and could be recalled at any time for any particular purpose. This ability to immortalise any event gave them enormous power. In a pre-literate age, the chieftains depended on the poets, or learned class, for the records of their achievements and those of their ancestors, for clarification of their laws, for the delineation of their succession rights, their rights to tributes from their subjects, and the rights of their overlords to tributes from them. All this was recorded in verse. Today the casual reader is puzzled as to why poets would spend their time and talent writing such stuff. But that is the reason: they were employed to do it.

In time their talent for immortalising acquired a numinous aura. They were also the chief entertainers of course. No feast would be contemplated without parading the compositions of the clan poets. Of course the poets themselves did not have to do the tedious stuff: they had their minions, the bards, to do that. But no doubt they made celebrity appearances. To enhance their power, they developed a terrible weapon which they could use against a stingy patron, a clan enemy, or a rival poet: the satire. A poet's satire was feared more than an enemy's weapon. The injury acquired in combat could be healed or avenged, but when a poet ridiculed you in verse, the damage was fatal and worse than fatal, because your shame, enshrined in verse, became immortal and outlived you for seven generations.

This might seem like a long-winded digression, Nadezda, but no, it is a lead-in to my explanation of the versification of Classical Poetry and the structure of 'The Shepherd and the Rose'. So do bear with me.

So there was a hierarchy of poets, starting with the bards who were merely performers or interpreters, to apprentices and journeymen, to master poets called filí, to the chief poet of the clan who was called the ollamh and enjoyed the same privileges as his chieftain or king. For example the head of the MacFirbis family was the traditional Ollamh to the chieftains of our north-western region of Ireland. Similarly there was a hierarchy of versification, depending on the complexity of the stanza structure, starting with what was acceptable from an apprentice and rising to what was expected of a master poet, or file.

The most sophisticated verse was extremely complex. Each type of verse had its own individual template for the four-line stanza, which as I said was their unit of composition. The number of syllables in each line was fixed, and there was end-rhyming usually between the first and third lines and the second and fourth, as in traditional English ballad verse. But there the comparison with English ballad verse ends. The template would include a pattern of internal rhyme also, and sometimes an end word would be required to rhyme with a word in the middle of the next line. Similarly a pattern of alliteration might be prescribed. The number of syllables in the end word of each line would be fixed too. In terms of rhythm they used accent rather than stress. When a poet decided to adopt a particular template, he had to abide by it, at the risk of ridicule, and he had to maintain that uniformity throughout, even if he had to compose a hundred stanzas.

So the composition was extremely demanding, but, once achieved, the poem was cast in bronze. And a bard reciting it could not forget a line and improvise. Each word in each stanza was held in place by this intricate meshed structure of the verse, fitted there like a word in a cryptic crossword, and could not be replaced. Even if a word was forgotten, and the meaning did not suggest what it was, it could almost be constructed from the sound patterns it had to adhere to. So the stanza was indestructible, immortal. It could be recalled in its entirety or not at all.

I smile when I hear people moaning about modern poetry, how it cannot be memorised and recited like the old poetry. Of course it can't. The structures that were devised to make language memorable have been cast aside, so of course modern poetry is just as difficult to memorise as prose.

I hope this gives you a picture of our great tradition, Nadezda. It was a great tradition, and we have the oldest literature in a vernacular language in Europe, or so we claim.

I hope we soon have some development on your side or mine to release us from Purgatory.

Sincerely

Jude





Dear Nadezda

I am delighted that you found my last Epistle to the Muscovites interesting; I had feared it might have put the kybosh on your enthusiasm. (By the way, if you click on your dictionary for the meaning of i>kybosh, they will say its origin is unknown. But it is unknown only to them - they might admit their ignorance with grace! It comes from two Irish words, caip báis, the cap of death, a ceremonial cap we used to put on a corpse.) You have considerable intellectual stamina, Nadezda. And coming back with more questions certainly makes me look to my stamina.

You want to know the challenges I experienced in translating 'The Shepherd and the Rose'. Where do I start?

The first decision I had to make was on the form of the translation. If I were to place prime importance on translating the text, the content, then I would have settled for a straightforward prose translation. But what sense of the original poem would that have given? Very little. Like it or not, I had to attempt a verse presentation. But how does one attempt to replicate such a complex stanza structure? The fili were extremely skilled professional poets who spent decades learning and honing their art. I imagine that when they recited their verses, accompanied by harp or pipes, the impact must have been akin to that of music. And here was I, who would not have rated even as one of their first-year apprentices, trying to emulate their composition in another language. I quickly decided that it was impossible, that it would be ludicrous to try. All I could do was give a sense, be it ever so vague, of the original.

So I kept the quatrain as the unit of narration. Into each stanza I poured the same content as was in the corresponding original – as faithfully as I could.

But then came the greater dilemmas. As we know, the filí structured their verse by the number of syllables in the line. Their rhythm was based on accent rather than stress. But I found that accent seemed more natural in Irish because of a better ratio between long syllables and short syllables. Even though I have attempted to deliver an accented rather than stressed verse, English seems to jump almost automatically into stressed metre. It was frustrating, and often I felt like taking a lump hammer to its anapaestic and iambic feet, not to maim - it has to walk after all - but just to break a few bones and stop its damned inclination to skip along. The trouble with the stressed pattern is that a perfectly self-effacing preposition, if it finds itself in the wrong place at the wrong time, can be hit with the full wallop of a stress, and be singled out from the line, mystified as why it has been chosen to carry an unwarranted burden of meaning. This should not happen with accented metre, but, in English, the challenge is in avoiding it.

Yes, Nadezda, indeed the challenges were many. Fitting the meaning into the structure was akin to fitting a monkey into a cage that was too small for purpose. Its arms and legs were constantly protruding, despite attempts to make him pull himself together. I could have let him free to stretch and roam and gambol, but that would have been to choose prose. Instead I went for a bigger cage that contained the animal with a little more comfort and freedom of movement.

I have now been informed by my dear friends, Adolph and Max, that Herr Professor will be over next week. I think that that conveniently coincides with the beginning of the Easter vacation. But I must not be cynical. I am sure he is a good man and an accomplished scholar. Perhaps we will have some decisions regarding the final folios of the manuscript.

Sincerely

Jude





Dear Nadezda

The Professor arrived yesterday for his review of progress - and his three-week holiday in Enniscrone! We had a meeting today. I put in my request to have the final two folios, which were now in a decipherable condition, released to me so that I could finish my translation.

Max and Adolph objected on the grounds that the completion, and possible publication, of the text would give an impression of completion to the project, when they still had much scientific research to do on the fragments of vellum. They also maintained that presenting a narrative at all gave an erroneous emphasis to the purpose of the project. They waved their arms a lot and spoke in their deepest bass-baritone to underline how strongly they felt about this. Storytelling was the very antithesis of scientific thinking and threw a veil over knowledge that was difficult to disperse afterwards. They suggested that people would have a more appropriate concept of the stars if they were not seeing hunters and dogs and ploughs in the night sky.

In defence of my profession, I played a hard game, Nadezda, even if I say so myself. I pointed out that storytellers created culture, created mythologies and religions, created the urge to explain and understand natural phenomena. Even if the explanations and interpretations were wide of the mark, they paved the way for the scientists to come afterwards with their own explanations, their own vision.

The Professor sat back and listened. It was clear from his demeanour that he was adopting the role of arbitrator rather than participant. So I was hopeful that I had won the argument.

When he eventually spoke, he did so at length, recounting the history of the project from the beginning, asserting the importance of the research and the findings, complimenting Max and Adolph on their meticulous research, and me on my literary contribution. His decision he saw as some kind of compromise. He agreed with Max and Adolph that it would take from the impact of the final report if the translation of the poem were completed, and no doubt published, in advance. There were two folios left to be translated. They would release one of them to me forthwith; the other would be locked away until the final report was ready. At that stage they would invite me back to complete my work. But since I had a warranted expectation of payment under my contract, they would now pay me in full, on my signing an undertaking that I would complete the translation at the appropriate time. And, he added, it might be some considerable time before the scientific work was complete, perhaps even years.

So that is the outcome, Nadezda. It may have something to do with the Professor wanting to spin out his project for a few years to facilitate his holidays in the west of Ireland. Who knows? I had hoped that a complete translation of this manuscript might have improved my chance of being invited to Moscow to talk about it. But if the invitation comes, perhaps it might be a lever to spring the final folio from captivity.

I should have the penultimate folio translated in two weeks – maybe even ten days - and will forward it to you.

Sincerely

Jude





Dear Nadezda

This is the translation. It leaves the story in mid-air. I hope you can live with suspense, or the open-end that has certain popularity in contemporary poetry and fiction. Of course I cannot be sure that the final folio of this manuscript will bring closure. Closure is often deferred where such a saga as this feeds into a larger narrative, as a stream flows into a river. Epic storytelling was like Celtic design – stories wove in and out of each other. For example, the story of Deirdre and the Sons of Uisneach, preserved by the great MacFirbis scholars, was but a prefatory note to the epic, Táin Bó Cuailgne, to explain why some of the Ulster warriors were fighting for the enemy, the Queen of Connacht.

Let me know what you think of it.

Sincerely

Jude
Dear Nadezda

I can understand your sense of anticlimax. Ending a narrative without an outcome is not satisfactory or satisfying. But perhaps if I get an invitation to Moscow I can squeeze the tail of the story out of its captors.

No, I cannot speculate with any confidence what the outcome might be. Given the origins of the story and its setting in a pre-Christian world, it might be possible that the Shepherdess saw it as her responsibility to her community to appease the angry or offended deity. Christianity has always cast the concept of human sacrifice in its ugliest light when referring to pagan practices, while elevating it to the highest act of generosity in the case of Jesus Christ sacrificing himself to appease the offended Creator. If you push me to speculate on an outcome, I would imagine that, as with my German Professor, a compromise was reached, and she spent the winter with Gamh, returning for half the year to bring summer to the hills of Tireragh. Our local Persephone!

How such a poem as this was presented at the festivals and feasts of the chieftains is impossible to say, since we have no indication as to whether it would have been accompanied, and if so what the accompanying music might have been. But the oldest form of Irish singing, called Sean Nós, might be the best indicator. In this style, the emphasis is not on repeated stress and music bars, but on the ornamentation of each note, each syllable. I can imagine that that would suit the syllabic accented poems of this era. Listen to an example of a song from the 14th Century – one which Handel heard and admired. If you click on to this link to Youtube you will hear a singer called Maureen Hegarty giving a Sean Nós version of Eibhlin a Rúin:

http://www.youtube.com/watch?v=1ql61WIg-HE

You can imagine the accomplished bards singing the poems in this totally leisurely way, their voices teasing out the music inherent in every verse, lingering sensuously on every syllable. You can imagine the intricate sound patterns of each stanza being elaborated and ornamented - and improvised upon uniquely perhaps at each performance. If the words were set rigidly, perhaps they allowed spontaneity in the music of each performance. Unfortunately we can never know for sure, Nadezda.

One thing I should highlight: the pace of their verse was far more leisurely than I have presented in my version. I estimated that the modern reader would have little patience for an ambling leisurely narrative, so I created a momentum by shortening the fourth line of each stanza from three to two accents - in order to catapult the reader from one stanza into the next. The filí would never have done that; the fourth line completed their intricate tracery of sounds and had to be given its due attention. Yes, I think the Sean Nós style of singing would have been eminently suited to their verse.

Sincerely

Jude





Dear Nadezda

It is a great disappointment to hear that your university has ended the academic year without making a decision on my invitation. Yes, of course I can be optimistic that they did not make a negative decision. Of course, it leaves the door ajar. And yes, I can continue to live in hope.

However, your proposal to come to Ireland yourself this summer fills me with alarm. This is not Moscow, Nadezda. How can you imagine that you will find anything in Ireland to match the lanes of Arbat? Yes, the street of Easkey – and there is only one street – has been hallowed by the feet of Dubhaltach MacFirbis and his clan, but the streets of Moscow have been imbued with the spirit of countless great writers. I fear such a trip will prove a total disappointment, that you will be disenchanted.

Sincerely

Jude





Dear Nadezda

No, you misunderstand me. I am not discouraging you from visiting Ireland, and especially Tireragh. I am utterly elated at the prospect of your being here for Midsummer. I am delighted that you want to see the sheep and lambs grazing on the Ox Mountains!

What I fear is that I have painted too romantic a picture of our remote plain by the sea. There will be nothing to see, believe me, a few black-headed sheep maybe, a deserted village street, a crossroads where a writer in his cottage pounds out words where his father once shaped glowing steel on an anvil. A wind-swept, rain-soaked landscape.

As in Levitan's painting of the Volga, Nadezda, events here take place only in the clouds and they disappear quickly back into the clouds. No, Nadezda, this is not Moscow.

Sincerely

Jude