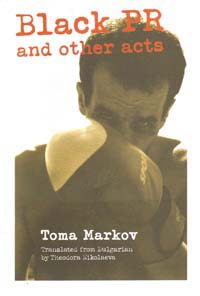 Black PR and other acts by Toma Markov

Her Excellency, Bisserka Benisheva, Ambassador of Bulgaria to Ireland, launched Toma Markov's collection of poems, 'Black PR and other acts', in the Irish Writers' Centre on 24th May, 2007. The collection is translated into English by Theodora Nikolaeva.

Toma Markov is one of Bulgaria's leading poets. He won the Bulgarian National Prize for Poetry in 2000 with his collection, 'Geroin'. Born in 1972 in the Southeast of Bulgaria, Markov has had many jobs. He has been a sugar seller, a night watchman, a stage worker and a backstage go-for, a freelance writer and magazine journalist. His collections of poetry include:

The Mad Hens – 1993

Letters To An Eventual Sophie From An Eventual Beach – 1997

GEROIN – 2000, ( winner of Bulgarian National Prize for Poetry)

TOMATERIALIST – 2001

Life Without Poetry – 2004



To read more about Toma Markov, click here.
Black PR and other acts

ISBN 0-9547194-9-2, price €9.95