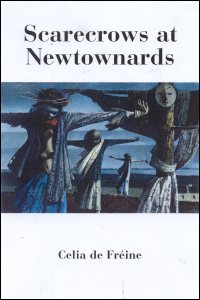 Scarecrows at Newtownards by Celia de Fréine

Available for Kindle from:
Amazon.com
| Amazon.co.uk
| Amazon.de
| Amazon.it
| Amazon.fr
| Amazon.es


First volume of poetry in English by the Patrick Kavanagh Award winner who has published two acclaimed volumes in the Irish language.
Celia de Fréine is a poet and playwright who writes in Irish and English. She was born in Northern Ireland and now lives in Dublin and Connemara.
Many of her plays have been produced, including most recently, Anraith Neantóige by Aisling Ghéar in 2004.
Her poetry has won many awards, including the Patrick Kavanagh Award (1994), Duais Chomórtas Filíochta Dhún Laoghaire (1996), the British Comparative Literature Association Translation Award (1999), Duais Aitheantais Ghradam Litríochta Chló Iar-Chonnachta (1999) Duais Smurfit/Lá (2003), and Gradam Litríochta Chló Iar-Chonnachta (2004).
She was awarded Arts Council Bursaries in 1997 and 2000, and Duais an Oireachtais for best play in 2003 and 2004.
From the reviews of Scarecrows at Newtownards
De Freine's evocative meditations seize the reader with a strange and unique mixture of sensuality and pain. Here too is the true poet's gift to surprise. Poem after poem captures its moment, its insight deftly, visually, forcefully… The death of poetry, I heard someone say. Not with books like this around. More like the death of criticism if poetry like this is not widely praised and recognized.

Rory Brennan, Books Ireland
It may be that this creative traffic between languages is responsible for the colloquial ease and flexible syntax that are so welcome in De Freine's work, and perhaps it is responsible also for peppering her fables of contemporary life with odd but compelling medieval allusion s. Either way, the more surreal the mixture, the better it works….This is an enjoyable and angular successor to 'Fiacha Fola'.

Selina Guinness, Irish Times
See also www.celiadefreine.com