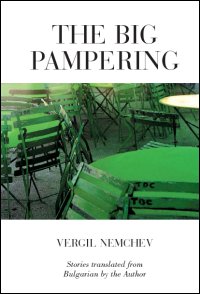 The Big Pampering by Vergil Nemchev

A collection of stories from a young award-winning Bulgarian writer.

Vergil Nemchev was born on August the 22nd, 1970 in the town of Razlog in the southwest of Bulgaria. He studied English Philology at Sofia University. His stories have been published in several Sofia and Plovdiv literary periodicals. His translations from English include works by T.S.Eliot, Jack Harte, Woody Allen, Charles Bukowski, Celia de Freine.

A first selection of short stories, "The Big Pampering," was published by Janet 45 Publishing House. It was officially presented at the "6+" performance at the National Palace of Culture made together with five other poets. He is the winner of 2003 "Rashko Sugarev" literary award, which was presented at this year's Balkan Dekameron Forum in Plovdiv. He has also published a book of poetry - "The Railings of the Term." Vergil Nemchev lives in Sofia.
The Big Pampering

ISBN 0-9547194-3-3, price €9.95