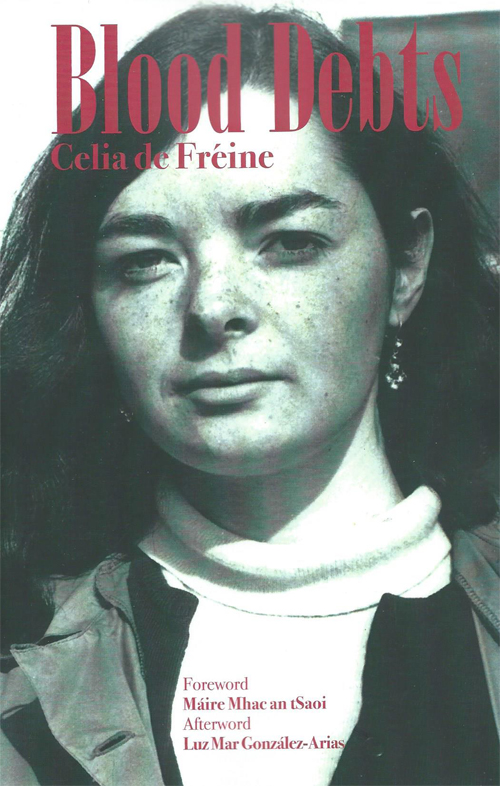 Blood Debts by Celia de Fréine

Celia de Fréine is a poet and playwright who writes in Irish and English. Her poetry has won many awards including the Patrick Kavanagh Award(1994) and Gradam Litríochta Chló Iar-Chonnachta (2004). celiadefreine.com

Blood Debts is a translation of Fiacha Fola published by Cló Iar-Chonnachta in 2004. In the late 1970s about 1600 Irish citizens, most of them women, were infected with a contaminated blood product known as the Anti-D agent. This sequence of poems articulates the experience of one of the women affected. Fiacha Fola won several awards and the following is some of the critical response:

 
Fiacha Fola is an extraordinary sequence of poems written through the eyes of a woman affected by the Hepatitis C scandal...There's no weak link here. Every poem provides another chapter, another essential link in the chain of events...In this incredibly powerful collection, Celia de Fréine has given us an absolute page-turner. Fiacha Fola is the best collection of poetry I have read this year.                                                                     
There are hints of lycanthrophy, of the personification of nature, of a curse. Over it all, there are echoes of Ireland figured as a woman. These echoes give particular power to the protest which alienates her, an incapacitated woman, from the state, because they evoke the railings of Ireland asspéirbhean in aisling poetry against the leaders who abandoned her.                                                                        
Fiacha Fola, however, is not just about rage. Her narrator is still a woman with a life, with a sense of humour, with friends, and with a family...Tenderness, love and friendship run as a weave beneath the pain. More than anything else, de Fréine's narrator sings in a voice as eloquent as the psalms.                                                                     
De Fréine's characteristics as shown in this collection are a social cogency, a capacity to express the private and personal so as to render it compellingly universal.
Read Lia Mills' article on Celia de Fréine in the Dublin Review of Books




See also www.celiadefreine.com
Blood Debts

ISBN 9780-956096678, price €12.00
Available for Kindle (price €4.99) from Amazon.com | Amazon.co.uk