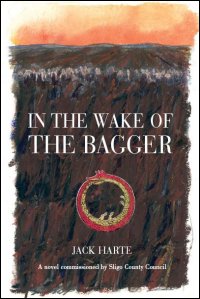 In the Wake of the Bagger by Jack Harte

Available for Kindle from:
Amazon.com
| Amazon.co.uk
| Amazon.de
| Amazon.it
| Amazon.fr
| Amazon.es


This novel is published on behalf of Sligo Co Council who commissioned it, the first time a novel has been commissioned under the Per Cent for Art Scheme.

This first novel by the master storyteller has two circular narratives, one set in the Nineteen Fifties, the other in the present day. At once a social document and a meditation on change, it is the enthralling story of the Dowd family who are uprooted from their home in Killeenduff, Co Sligo, to re-settle as economic migrants in the Midlands, where the industrial development of the bogs is providing jobs and opportunities. The tension between the old traditional way of life and the first stirring of industrialization in rural Ireland is captured graphically. The story of the protagonist and his family is told with great warmth, but without sentimentality.

From the reviews of In the Wake of the Bagger
This is one of the great books about Ireland …. full of astounding scenes …. a truly fabulous book. Don't miss it.
This first novel from the accomplished short story writer Jack Harte is truly a many-splendoured thing.
A gem of a book that demands to be read and flagged for its imaginative plotting, authentic characterization, and colloquially colourful dialogue.
The jewel in the crown of this book is Jack Harte's craftsmanship. This is a beautifully written book which deserves to be read again and again.
This is one of those beautiful books that you pick you and simply cannot put down until you have finished the very last word. Jack Harte hails from Sligo and this county forms the basis of this seriously interesting novel. We meet the Dowd family who are uprooted from their Sligo home to find work on the Bogs in the Midlands and the effect this has on the family. The story is well told with a wonderful sense of pathos and the text is measured and balanced. A true delight.
See also www.jackharte.com
In the Wake of the Bagger

ISBN 0-9547194-5-X, price €9.95