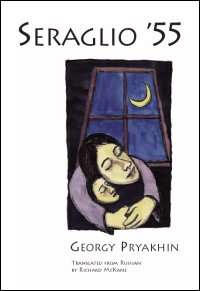 SERAGLIO 55 by Georgy Pryakhin

The International Press Institute based in Vienna nominated Seraglio 55 for the International Human Rights Book Award presented at a public ceremony in the Vienna City Hall on 18 May, 2010. This was in recognition of Pryakhin's contribution to press freedom by dismantling Communist Party control of the media in the USSR under Gorbachev. Ironic to see this book nominated alongside Anna Politkovskaya's A Russian Diary and Wild Swans by Jung Chang when its publication in Ireland was undermined by a campaign of hate and lies. Ah well!

'Seraglio 55' is a sequence of sketches based on the author's experiences traveling around the world and through life. Observing and reflecting, he filters his experiences through dreams to tease out personal significance. Here is variety, from stories about growing up in a village which was the remnant of a Stalinist penal colony, to stories of meeting international figures with Gorbachev.

Georgy Pryakhin was born in 1947 in a village in the steppes of Southern Russia, a penal colony to which his father and mother had been separately deported by the Stalin regime. Orphaned as a child he was brought up in one of the infamous Stalinist orphanages. After graduating from Moscow University he worked as a newspaper, then a television journalist.

Pryakhin's first novel, 'A Boarding School', an exposé of the Stalinist orphanages, was published in the 70's by the legendary radical journal, 'Novyi Mir'. The Cold War being in full swing, the Voice of America radio station broadcast the novel across the USSR as anti-Soviet propaganda. Nevertheless, Pryakhin rose through the ranks of the Communist Party and he was sent to Armenia when the catastrophic earthquake struck in 1988. There he met and engaged with the President of the USSR, Mikhail Gorbachev, who invited him to join his Inner Circle of advisors.

After the fall of Gorbachev, Pryakhin concentrated on the publishing house, Voskresenye, which he heads. But in 2000 he helped to found the centre-left political party, Russia Revival, in an effort to bring the social-democrat option into Russian politics.

His books have been translated and published across Europe and Asia, but this is the first to be published in English.

To read more about Georgy Pryakin, click here.
Seraglio 55

ISBN 0-9547194-6-8

Price €9.95